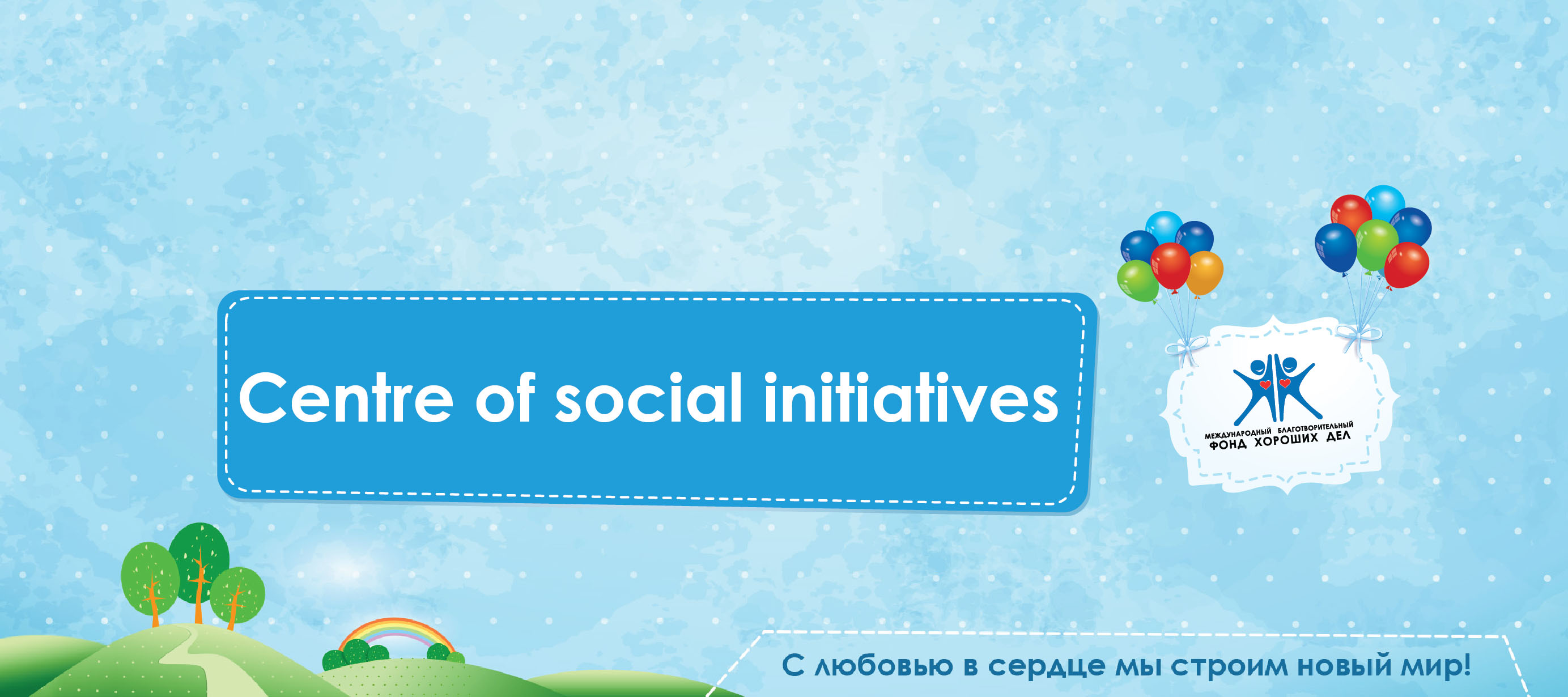 Those who constantly monitor our activities know that the 
Good Deeds International Charity Foundation
develops rapidly. Our team organized more than 500 socially useful activities, including 300 mini-projects, 30 large-scale events and supported more than 80 partner events, etc. 
With the purpose to find more new friends and like-minded people for the realization of creative, sometimes crazy ideas, the Good Deeds ICF announces the opening of the Centre of Social Initiatives
Current situation in Ukraine is quite complicated: the economic crisis, social and psychological instability, fall of living standards of the population, devaluation of norms and values in society. These problems had great influence on psychological and moral health of all social groups, but most serious on those who need social, psychological and material assistance. Unfortunately, in our country the level of funding for social services is not a model that leads to quite logical consequences: lack of qualified social workers. Therefore, it is vitally important to spread volunteer movement in Ukraine and involvement the wide range of different population groups. But, even the volunteer movement become a large scale, there some problems that thwart its progress. One problem is lack of knowledge of methods volunteers work with vulnerable groups of people, organizing efficient, secure voluntary activities. The project is aimed at solving this problem by creating educational and training centers for volunteers in Ukraine. In centers volunteers will learn project management in the social sphere and implement their own initiatives. The project is going to be implemented in two stages:
First stage:
25 volunteers from all over Ukraine will be trained under the program "From Idea to Action" and implement projects aimed at solving the problems of vulnerable groups, with the support of Good Deeds provided through small grants .
Second stage:
20 volunteers trained at Kyiv Center of Social Initiatives before and 5 volunteers selected on a competitive basis from all over Ukraine will be trained under the program "Create your own Center of Social Initiatives" and implement projects on creation of regional centers of social initiatives. Each of the centers during four months will have to develop and implement 15 social projects, aimed at solving the problems ofvulnerable groups, and present the best ones for the competition for a mini-grant, which will be hold by charity foundation the Good Deeds. Thus 375 social initiatives will be implemented and 400 volunteers improve their competence in work with socially vulnerable groups of the population.
Objectives
of
the
project:
Raising effectiveness of voluntary activities in Ukraine through establishing network of educational and training centers of social initiatives for volunteers. Objectives:
establishing regional centers of social initiatives in XX regions;
Providing support to vulnerable groups of populations in solving difficult life circumstances through the implementation of social initiatives.
increasing motivation of young people to voluntary
We are confident that all socially useful work performed by a volunteer assistant, should be noticed and appreciated!
WE APPRECIATE YOU AND OFFER:
free and quality education;
providing of stationery needed to implement your social initiatives;
monthly choice and encouraging of the best "Volunteer assistant of the month";
placement of news about the best "Volunteer assistant of the month" on the Foundation's website and in its groups in the social networks Vk, Facebook;
interesting leisure,
personal development and opportunity to spend time with fun and use.
YOU WILL GET:
opportunity to realize your creative projects within the Foundation;
opportunity to study project management;
written recommendation from the Foundation for your future successful career;
ability to accumulate high-quality portfolio;
opportunity to help needy on a large scale;
Joining the Centre of Social Initiatives You will become a part of a unique civil initiative, support of the well-known international charity organization, friendly team and will be able to implement new and useful social projects!
TO BECOME A MEMBER OF THE Centre of Social Initiatives YOU SHOULD:
Fill in the 
application of voluntary assistant
we will include you in base of volunteers, and we will you invite to our events/ projects. If you want to take a free education in "Centre ofsocial initiatives" fill up the form 
here
http://goo.gl/forms/J9E0jpuvJ3
Project coordinator
:  Natalia Kolesnik
E-mail:
gd@good-deeds.ua